On Tuesday, One America News reported that Maryland had voted to legalize recreational marijuana and possession up to 1.5oz for people 21+.
The article notes:
It will also create a path to expunge or re-sentence convictions. In MD, police are ~3x more likely to arrest Black people for marijuana despite equal use among white people.
The article includes the following tweet:
ChudsOfTikTok
@ChudsOfTikTok
Missouri voted to decriminalize & have recreational sales of marijuana at a 6% sales tax!! Legalize, Tax, Regulate! Congrats Maryland & Missouri!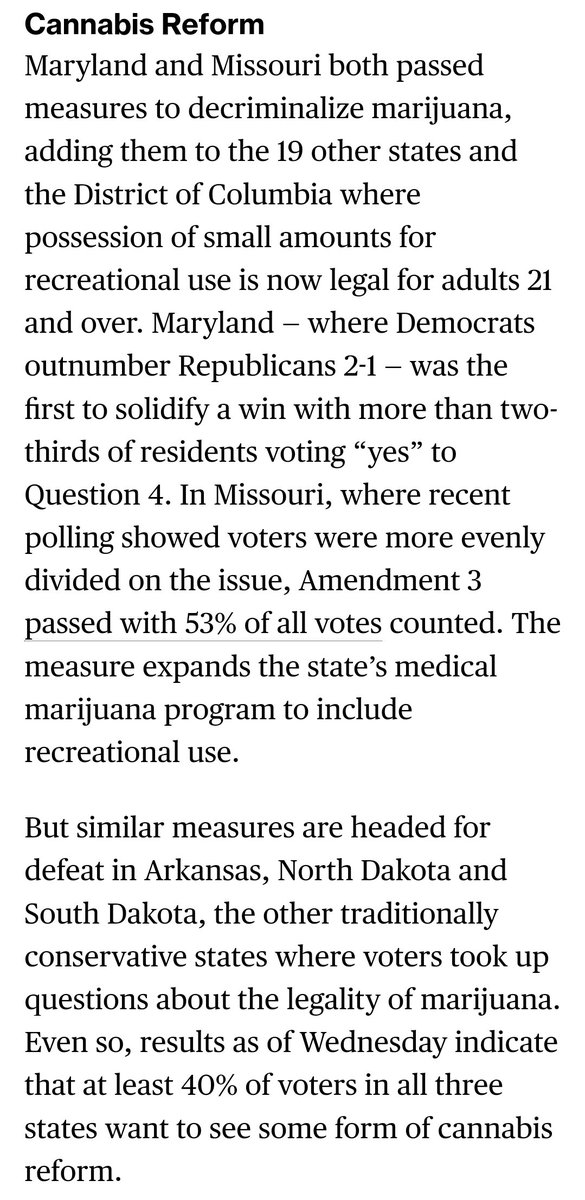 This is NOT good news. In October 2018, I posted an article based on a New York Times story of a man who was addicted to marijuana. Please follow the link to read the entire article. This is not a harmless drug.
The article at rightwinggranny notes:
On October 6, Neal Pollack posted an opinion piece in The New York Times. The title of the opinion piece is, "I'm Just a Middle-Aged House Dad Addicted to Pot."
The opinion piece details the author's journey from using marijuana regularly in his 20's to the realization that he was hooked on the drug.
Here are some highlights from the article:
I started smoking regularly in the '90s, when I was in my mid-20s. Pot made everything better — food, music, sex, cleaning — and it made nothing worse. I got depressed less often. I laughed all the time.
But I also lost my temper for no reason. Did I yell at strangers in public? Probably. I barely remember, because I was stoned. But I do remember that once, high as a promotional blimp, I got into a bar fight with a former friend and broke his tooth with a beer bottle.
Back when my writing career was booming, I got invited a couple of times to do readings in Amsterdam, a bad gig for a pot addict. Once, after ingesting a couple of THC pills, I dumped a pitcher of water over my head and insulted the Iraqi representative to National Poetry Day Amsterdam. Another time, I pulled down my pants and flashed a crowd of several hundred. If I had any boundaries, weed erased them thoroughly. The boom ended fast.
…In early November (2017), I had the chance to fulfill my lifelong dream of attending a Dodgers World Series game. I spent way too much money on a ticket that turned out to be fake. So high that I couldn't remember where I'd parked, I started screaming outside the stadium. If I'd been sober, I would have just called the vendor and gotten a refund. That's what I ended up doing, eventually. But not before security guards surrounded me.
I looked into a car mirror and saw an old man, sobbing over a baseball game. That was the moment I accepted that I had a problem. Three weeks later, I quit.
The author goes on to say that he believes marijuana should be legal. I disagree.
In January 2019 Imprimis reported:
Most of all, advocates have told you that marijuana is not just safe for people with psychiatric problems like depression, but that it is a potential treatment for those patients. On its website, the cannabis delivery service Eaze offers the "Best Marijuana Strains and Products for Treating Anxiety." "How Does Cannabis Help Depression?" is the topic of an article on Leafly, the largest cannabis website. But a mountain of peer-reviewed research in top medical journals shows that marijuana can cause or worsen severe mental illness, especially psychosis, the medical term for a break from reality. Teenagers who smoke marijuana regularly are about three times as likely to develop schizophrenia, the most devastating psychotic disorder.
After an exhaustive review, the National Academy of Medicine found in 2017 that "cannabis use is likely to increase the risk of developing schizophrenia and other psychoses; the higher the use, the greater the risk." Also that "regular cannabis use is likely to increase the risk for developing social anxiety disorder."
Legalizing marijuana for any reason will not solve problems–it will only cause more problems.