On Friday, the American Thinker posted an article entitled, "The '1967 border'–the lie that won't die."
The article was written in response to the recent articles in the mainstream media as Palestine increases its efforts to become a state without dealing with the issue of peace with Israel.
The article reports:
"Both the New York Times and the Washington Post, in their April 22 editions, report that a group of prominent Israeli leftist intellectuals demonstrated in Tel Aviv in support of a Palestinian state based on the "1967 borders.""
There are a few problems with this idea. There is no 1967 border–there is only an armistice line created after all of Israel's neighbors invaded her as soon as she became a nation. The 1949 armistice line was never internationally recognized as a border.
The article in the American Thinker points out what happened when Arabs controlled the holy sites of the three major religions of the world:
"Compounding this lie, the Times and the Post also erase from actual history the fact that during Jordan's illegal 1949-67 occupation of the West Bank and East Jerusalem, including the entire Old City of Jerusalem, Jews were barred from Judaism's holiest sites — the Western Wall, Temple Mount and Hebron's Cave of the Patriarchs. A return to the 1967 line would deal Jews a similar fate.

"The truth, so lacking in the Times and the Post, is that Israel still awaits an eastern "border" that can and will be fixed only as part of a final resolution of the Israeli-Palestinian conflict , as mandated by the UN Security Council in Resolution 242. In the meantime, history and Arab aggression have swept away the 1949 armistice line and, notwithstanding the lie perpetuated by the Times' Isabel Kershner and the Post's Joel Greenberg, a "border" still remains an elusive quest that has yet to reach its final destination."
This is not an acceptable situation. The thing we need to remember is that the land Israel currently occupies is a small fraction of the land it was promised when the nation was created.
This is a map of the original British Mandate for Israel: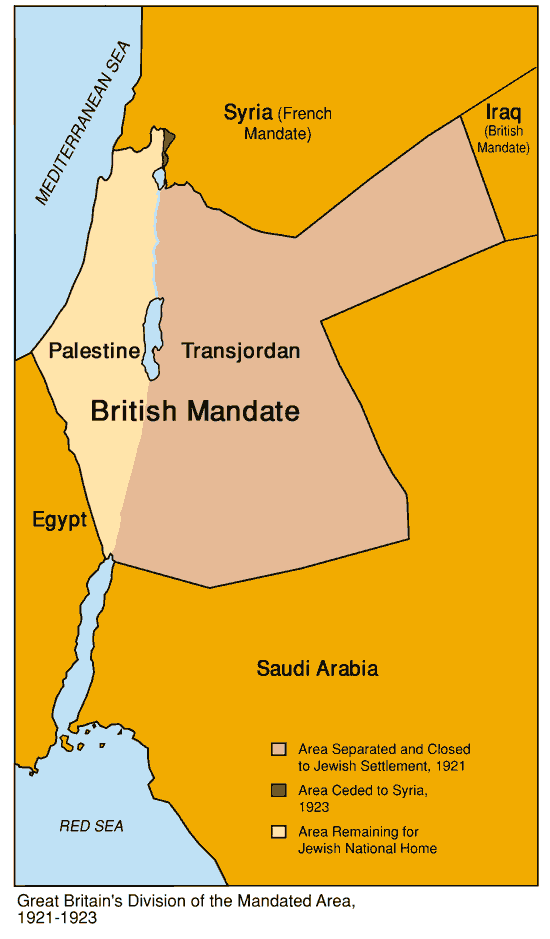 Palestine was the name given to Israel at that time. Transjordan was originally to be given to the Jewish state, but Britain reneged on its promise and gave the land to the Arabs instead. In 1921, the Arab representative responsible for the above division of the land, Emir Feisal, agreed to abandon all claim of his father to Western Palelstine if he secured Iraq and Eastern Palestine as Arab terrorities. These are the borders set up for the nation of Israel. The 1949 borders were simply an armistice.